Ammanford Library leads the way digitally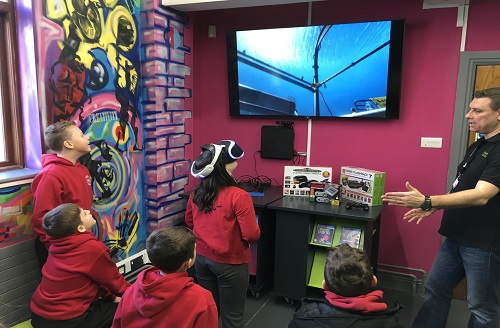 A new digital revolution is about to take Ammanford by storm. The Makerspace project - known as Stordy Creadigol - is a state of the art creative store and is the first of its kind in Welsh libraries.
Types of technology on offer at Ammanford Library include 3D printers and 3D modelling; DVD, VHS, camera conversion hardware and software; audio recording and editing booths, midi keyboard, mixers, DJ equipment, microphones; video/Image recording and editing booths; PCs with recording and editing software and a green screen and much more.
The Stordy Creadigol will allow library users to experience technologies or activities that they may have not used and gives members access to tools, technology, and social connections that may not be easily accessible otherwise.
The project will be launched on Monday, March 19 with Culture, Sport and Tourism Minister, Lord Dafydd Elis-Thomas opening the event. Celebrations will continue with a host of activities planned over two weeks.
Users of all ages can work together, alone, or with library staff on creative projects. It is hoped the new technology will encourage non-traditional library users to make best use of all library resources, fuelling a new wave of creativity, problem solving and entrepreneurialism.
The council's executive board member for leisure, Cllr Peter Hughes-Griffiths said: "The needs of the population of Carmarthenshire are in a continual state of change. Our tasks through libraries is to create a space for knowledge, reflection, and participation in an ever-changing world. This development also adds to the community enthusiasm shown towards Ammanford as the Cultural Town of Carmarthenshire for 2018."
The developments at Ammanford library is part of a bigger project where the goal is to roll-out services across the county's network of libraries through the development of partnerships and organisational stakeholders.
The council's libraries manager, Mark Jewell said: "We are so excited to launch this project especially being the first of its kind in Wales. Makerspace will inspire creativity, innovation and product design where people of all ages and abilities can gather to co-create, share resources and knowledge, work on projects, network, and build. Libraries are more than just books as this project demonstrates. Libraries are a place for individuals and communities to grow."
The library service wants to increase its wide range of activities by introducing Makerspace type services which will inspire creativity and innovation, a first of its kind in Wales. It is intended to encourage new people to the library, combining new and traditional core library services. Libraries are not only important for the individual, but also for society as a whole.