More major sporting events on horizon for Carmarthenshire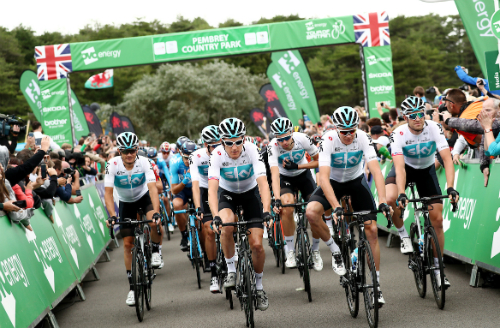 Carmarthenshire has sealed its reputation as a world-class host of major sporting events following its welcome of the Tour of Britain.
Stage One of the UK's biggest road race took place in the county today (Sunday, September 2, 2018) bringing 120 of the world's top cyclists and thousands of spectators out on to the streets.
Cycling stars including Tour de France winners Geraint Thomas and Chris Froome were amongst those to star in the race, which started from Pembrey Country Park and travelled north through the county to Llandovery before continuing on the stage finish in Newport.
It is the first time the Tour of Britain has visited Carmarthenshire, and has been the biggest sporting event ever hosted by Carmarthenshire County Council.
With live televised coverage throughout the day, it was a major opportunity to showcase Carmarthenshire's landscape and facilities which are perfect for a range of sporting events with its special blend of countryside and coast.
The event is also expected to deliver a £4million economic boost to the south Wales economy and add to the county's growing tourism industry with thousands of today's visitors likely to return to enjoy what Carmarthenshire has to offer.
Leader of Carmarthenshire County Council, Cllr Emlyn Dole, said: "This has been a fantastic opportunity for Carmarthenshire to shine on a world stage. I have spent the morning not only enjoying the race but speaking to people who are hugely impressed with what Carmarthenshire can offer as a host of major sporting events. I've no doubt that today's race will mean many more exciting opportunities for us to bring the world's top athletes to compete here on our doorstep.
"This is fantastic for Carmarthenshire, our growing tourism industry, local businesses and local communities.
"I am so very proud of the welcome Carmarthenshire has given to the Tour of Britain, and I thank organisers for putting their faith and trust in us to deliver a spectacular day of racing."
Get involved...
#OVOToB #CycleCarms #BeicioSirGar