Warnings for heavy rain and wind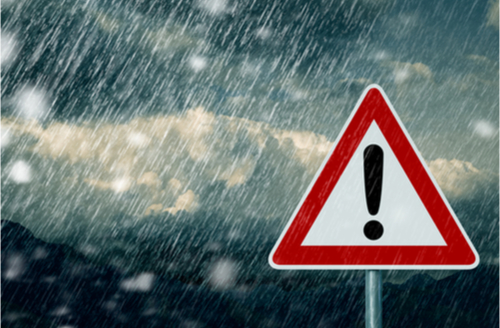 The Met Office has issued an amber warning for heavy rain for this afternoon and evening, and a yellow warning for wind.
Natural Resources Wales has issued flood warnings for the rivers Taf, Cynin and Lower Towy, and along the Carmarthenshire coast from Pendine to Hendy. There are flood alerts on a number of other rivers.
Residents and businesses in the St Clears area should be particularly prepared as high river levels may cause localised flooding – an area of low-lying land behind the Spar convenience store is likely to be affected.
High tides may also cause flooding at the Carmarthen Bay Caravan Park.
Coupled with high winds, people are advised to be careful on beaches, promenades, coastal footpaths, roads, low lying land, and close to the estuary. Sea spray and waves could be dangerous.
People should be prepared for surface water flooding, and are being urged to take care on the roads. As always, people are asked to stay away from flooded areas to ensure their own safety and to help council and emergency crews to deal with any issues.
Additional crews are on standby to respond to issues and changing conditions.
If you are concerned about flooding call the Floodline on 0345 988 1188 or visit Natural Resources Walesfor up-to-date information.
If you live in an area affected by flooding, please check on your neighbours and anyone you know who would be vulnerable. If anyone is in need of assistance please call our emergency number, 0300 333 2222