New initiatives launched to tackle littering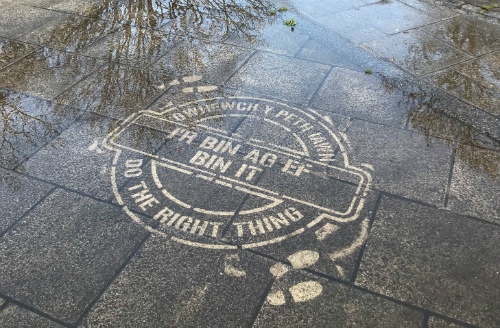 New initiatives are being rolled out to encourage residents to get rid of their litter responsibly.
Litter bin signage has rolled out throughout the County and new pavement messages have been launched in Llanelli town centre as part of Carmarthenshire County Council's 'Pride in your Patch' campaign.
The new pavement messages involve pressure washing a stencil to create a two-tone effect encouraging residents to dispose of their litter correctly.
With over 2,000 litter bins across the county, the stencil encourages people to use the litter bins, whilst the bin signage clarifies their intended purpose, which is to dispose of litter and bagged dog waste only.
Executive board member responsible for environment, Cllr Hazel Evans said: "Litter bin misuse unfortunately is very problematic, general litter and bagged dog waste are the only types of litter that should be deposited in litter bins.
"Our new signage has seen a positive impact so far and we hope residents will continue to be mindful when depositing their litter."
Household rubbish and business waste should not be placed in litter bins, all businesses have a duty to keep their waste safe and to dispose or recycle it using a licensed waste contractor.
Tune into Radio Carmarthenshire on December 19 to find out more about can be done to keep Carmarthenshire litter free.
If you see anyone littering, you can report it online