Pupils give 'Insight' into county council budget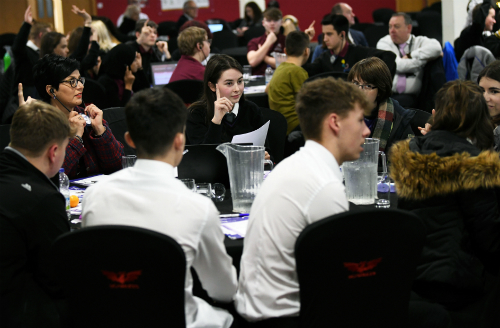 Secondary schools from across Carmarthenshire have given their views on proposals in the council's budget.
The annual Insight event is open to all secondary schools and colleges in the county.
This year teams from Bryngwyn, Bro Dinefwr, Bro Myrddin, Emlyn, Maes y Gwendraeth, Dyffryn Amman and QE High, attended the event at Parc y Scarlets.
Each team of pupils from years 10-13 represented the council leader and executive board members as they discussed their opinions on the proposed budget.
Their findings were then presented to Council Leader Cllr Emlyn Dole, Chief Executive Mark James, executive board members and directors who were present.
Cllr Dole said: "The Insight event is always a highlight of the year. It was uplifting to hear the views of the young people on the proposed new policy changes. Their feedback is very important and it's so refreshing to hear what they think about the issues we are faced with and I would like to thank them for their input and sharing their views with us."
All schools who have taken part in the Insight event have been invited by Leader of the council, Cllr Emlyn Dole, to present their findings to Full Council on Wednesday, December 12.
People can give their feedback by completing a budget consultation survey online.