Customer service hub in Ammanford gets the thumbs up!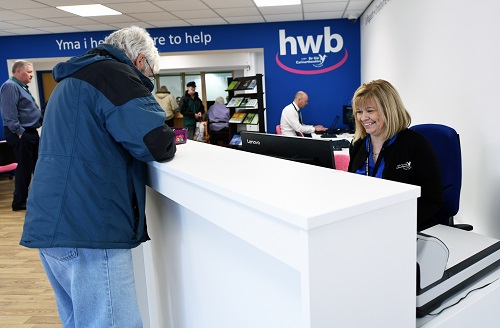 Nearly 1,000 people have been helped by visiting the Ammanford Hwb in just three weeks.
The new Carmarthenshire County Council customer service hub has proved extremely popular with officers providing advice and support on a range of council issues to 909 customers since opening its doors last month. Twenty five of them have already been referred to employability schemes.
Modelled on the successful Llanelli Hwb, the service provides face-to-face advice on a range of council issues, as well as being a place people can make payments, get job and training support, access digital facilities, find out about volunteering opportunities and more. Five PCs are also available for the public to use.
Partners, Workways + are located inside the Hwb and offer support around employment and training including courses required to obtain relevant skills and qualifications to move into work.
Adult education support, Learn Direct, are also sited at the Quay Street building with more partners planned to come on board.
In addition the Hwb is expected to bring more footfall in to the town centre on weekdays, which in turn will help boost trade.
Cllr David Jenkins, Executive Board Member for resources, said: "The figures speak for themselves and I'm so pleased that we have been able to help more people in Ammanford access more services as well as one to one advice. The Hwb makes it far more convenient for people to get in touch with the council, and has the added benefit of providing training, employment and volunteer support too."
Opening hours are Mon – Thurs, 9am to 5pm and Friday, 9am-4.30pm. The centre has two meeting rooms for hire. If anyone is interested please email cscammanford@carmarthenshire.gov.uk