Bin collection changes from April 1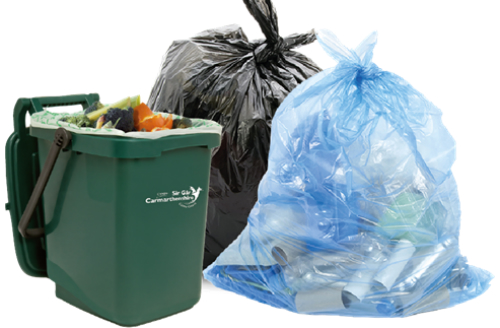 There will be changes to bin collections for some households in Carmarthenshire from April 1.
Around 13,000 homes across the county could be affected by a change in collection day or blue / black bag weeks and approximately 2,000 properties will receive a full recycling service for the first time.
Residents affected by any changes to their collections will receive information in the post from the week commencing March 18. Our online checker will also tell you if you are affected.
However, all residents are being reminded to put their bins out by 6am on their collection day (and no earlier than 6pm the evening before) as their usual collection time could be affected as a result of the route changes, even if their day remains the same.
Residents should also note that just because their neighbour's day or collection week is changing it does not automatically mean that theirs is too.
These changes will help to provide a more efficient service to the public and help to increase the county's recycling rate.
It is great news for residents who up until now have been unable to recycle at home; mainly flats and sheltered housing which have been difficult to service due to access issues. It means that 100% of households across Carmarthenshire will now receive a full kerbside recycling service.
Executive Board Member for the Environment Cllr Hazel Evans said: "We apologise for any inconvenience these changes may cause residents, and we will do our best to keep disruption to a minimum as much as possible. All residents should be mindful that even if they are not directly affected, the changes could have a knock-on effect on their collection time.
"It will help to improve the service we provide and residents who were unable to recycle previously, will now be able to benefit. It should make a big difference to our recycling rate and help us to meet strict Welsh Government targets."
Carmarthenshire is currently recycling around 61% of its waste, but must achieve 64% by 2019/20 and 70% 2024/25 or risk a large financial penalty.
Bin / Recycling Collection
Get involved...
#RecycleCarms