Grant for new homes in Bryn, Llanelli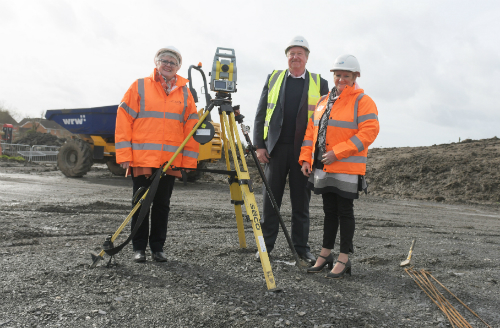 Work is well underway at a new affordable housing development in Llanelli, which was awarded a £3.1 million grant.
Carmarthenshire County Council successfully applied to the Welsh Government for the grant, which will help cover the costs of a 34-house scheme on land close to the Dylan housing estate in Bryn.
Made up of 28 two-bedroom homes and six four-bedroom homes, the development is part of the council's ongoing drive to deliver 1,000 more affordable homes across the county by 2021.
Other features of the development will include a new park with children's equipment, a new wetland pond feature and an extensive programme of access, parking and landscaping improvements.
The scheme will also include a £64,560 contribution to improve educational facilities at Ysgol Bryn Teg and Bryngwyn Comprehensive School.
Cllr Linda Evans, Carmarthenshire County Council's Executive Board Member for Housing, said: "This is the first year of the Welsh Government's Affordable Housing Grant scheme, so we're delighted to have secured funding for a development that will benefit dozens of families in Llanelli. The grant award is apt recognition of the scheme's quality and innovation.
"This scheme will meet the need for more affordable housing while boosting two local schools and the nearby community as a whole.
"It also now means we're well on the track to realise the promise we made in our Affordable Homes Commitment back in 2016 to deliver 1,000 more high-quality, low cost homes in Carmarthenshire by 2021. Over 600 of these homes have now been delivered which shows how seriously we're taking that commitment for the benefit of local people.
"More schemes of this nature will be announced in the coming months."