Bad Santa and his naughty elf land up in court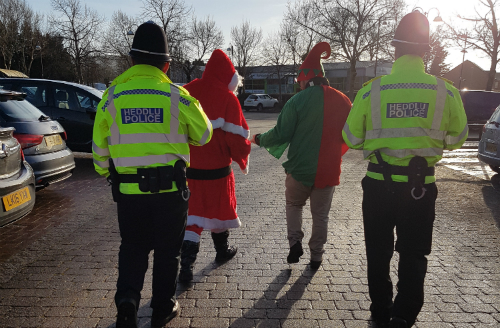 A father and son, dressed as Santa and his elf, have ended up on the Christmas naughty list after collecting cash on the streets without a charity permit.
Clifford and Luke Evans, have been ordered to pay over £1,500 after admitting collecting the money for mental health charity, MIND, without a street collections licence and without the charity's knowledge.
Llanelli magistrates heard that in December 2017 the pair were approached by a council licensing officer in Ammanford Town Centre whilst collecting money in sealed containers displaying the charity logo, an expired charity number and marked with the words 'Mind for better mental health'.
The officer asked Evans (senior), of Pennant Avenue in Saundersfoot, who was dressed as Father Christmas, if he had a street licence but he claimed he was collecting 'as a surprise' for the charity. The 50-year-old then claimed he didn't think he needed a permit even though he had been issued with a warning letter 12 months earlier for a similar incident. Street Collection Permits need to be produced on request.
When the officer approached his son who dressed as an elf, and carrying a similar blue and white collection box, the 25-year-old, from Kingsmoor Common, Begelly in Kilgetty, said he didn't need a permit because he was collecting for his father.
Both were escorted by police and a licensing officer to Evans' (senior) car. In the boot they found another fancy dress costume and an open bucket of cash, along with a spare 'MIND' collection box. The buckets, containing £99.65, were seized after the licensing officer contacted the charity who confirmed it was unaware of a collection taking place.
The pair were also caught on CCTV dressed in the same costumes collecting money two days earlier in Merlin's Walk in Carmarthen Town Centre despite denying they had collected elsewhere.
In mitigation the pair's solicitor claimed they pair had intended giving the money to the charity and that Clifford Evans had collected for various charities for around 10 years, having previously sky dived for Help for Heroes. The solicitor also claimed that whilst Clifford Evans had been warned previously by the council, he was illiterate and did not understand the requirements. In addition he said the case had had a detrimental impact on Evans' (senior) life and business.
The father and son were each fined £400 and both must pay £544.11 costs and £30 victim surcharge. The court also ordered that the £99.65 be paid to MIND.
The council's executive board member for public protection, Cllr Philip Hughes said: "It is against the law to collect money from people on the streets without the proper permit. This is something Clifford Evans had previously been made aware of but despite this he continued to collect with his son, having no proof that the money was actually going to the charity. We are very happy to assist anyone who wishes to collect for a charity to ensure they are doing so within the law."