New funding for businesses to improve key areas of county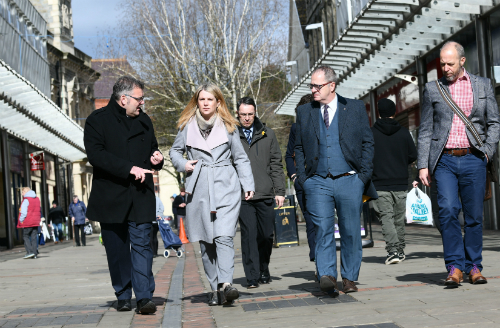 A new pot of funding has been opened up to support regeneration, business growth and job creation in key priority areas across Carmarthenshire.
The Targeted Regeneration Investment (TRI) programme is part of a Welsh Government regional scheme to drive economic development in areas deemed most in need.
Areas chosen for investment in Carmarthenshire are Llanelli Town Centre and Station Road, and Ammanford Town Centre.
Businesses can apply for funding from two main thematic funding streams – a Property Enhancement Development Grant and Sustainable Living Grant.
Projects must promote economic regeneration - creating jobs, enhancing skills and employability and creating the right environment for businesses to grow and thrive.
A Property Enhancement Development Grant provides gap funding for owners or occupiers of vacant commercial buildings to enhance frontages and bring vacant commercial floor space back into use.
Where a local need has been identified, it could also fund development projects that create new commercial floor space.
A Sustainable Living Grant supports the conversion of vacant commercial space on upper floors into new homes. It can be used alongside the Property Enhancement Development Grant, and other initiatives, to encourage mixed-use regeneration of properties.
Cllr Emlyn Dole, Council Leader and Executive Board Member for Regeneration, met Deputy Minister for Housing and Local Government Hannah Blythyn in Llanelli Town Centre recently to discuss the TRI programme and other ongoing improvements to the town.
He said: "This targeted investment has potential to make a real difference in Llanelli and Ammanford, and complements the council's on-going efforts to regenerate these important towns.
"We are pleased to be part of this regional programme that will make the most of vacant commercial space and help improve the appearance and vibrancy of our town centres."
Deputy Minister for Housing and Local Government Hannah Blythyn said: "We want to support local businesses, grow our fantastic town centres and create job opportunities in Llanelli and Ammanford. Creating more good quality commercial and retail space will play a real part in this, as will creating homes in the centre of our towns, so people can live and work centrally and contribute to the local economy.
"This fund will help to create opportunities out of empty properties and attract more people to our town centres. I look forward to seeing some exciting refurbishments, and businesses growing and prospering across in Llanelli and Ammanford as a result."
Any businesses or applicants interested, or with a deliverable project in the priority areas identified, should contact Carmarthenshire County Council's Economic Development Team for an initial discussion.
Contact Economic Development Coordinator, Tessa Peregrine, on TPeregrine@carmarthenshire.gov.uk or 01554 748815.