Budding entrepreneurs battle it out in trade off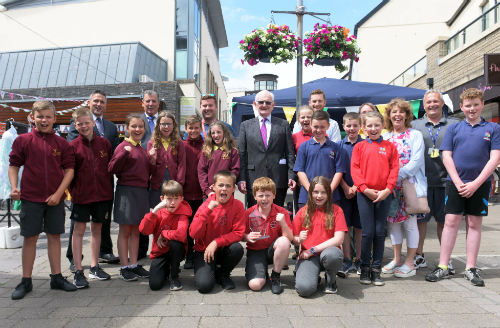 Ysgol Teilo Sant are young trader champions after selling all their stock on Carmarthen Outdoor Market.
The Yr 6 pupils were hailed winners after battling it out with two other schools, Saron and Meidrim, in the Carmarthenshire Young Traders Competition.
The school sold over 500 flavoured home-made Welsh cakes in four hours and pocketed nearly £300 for their school.
The annual competition involves setting up a business and turning it into a profitable enterprise.
Teams of up to five, Year 6 pupils, must develop a business idea, plan, purchase material/products, brand it and run it themselves on a stall in the outside market for a day. Each school keeps any profit made during the day.
Carmarthenshire Council's executive board member responsible for markets, Cllr David Jenkins, said: "The quality of the products once again was first class. It was lovely to see the children's confidence grow throughout the day and it gave them an insight of what's it's like to run a business. I would like to thank St Catherine's and Merlin's Walk for their support in sponsoring the competition and the teachers for all their hard work."