County's rural regeneration plan discussed at Royal Welsh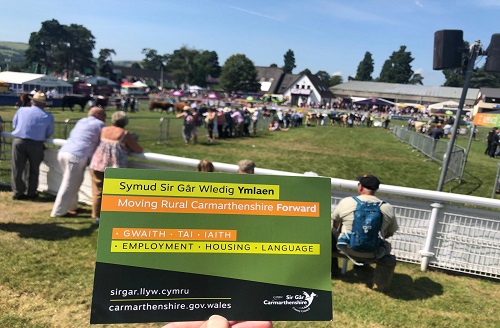 Discussions about Carmarthenshire's plan to regenerate its rural communities are getting underway at this year's Royal Welsh.
Cllr Cefin Campbell, Carmarthenshire County Council's Executive Board Member for Rural Affairs, has seized the opportunity to speak to local people, businesses, farming unions and stakeholders about the authority's aspirations at the annual agricultural event in Builth Wells.
The 'Moving Rural Carmarthenshire Forward' plan is a wide-ranging strategy developed by the council to specifically focus on its rural areas.
It aims to strengthen local economies, create jobs and business opportunities and protect the Welsh language in rural areas, home to more than 60 per cent of Carmarthenshire's population.
Cllr Campbell, is leading the engagement with stakeholders and delivery of the strategy which has been developed following a cross-party review to investigate, understand and plan what is needed to create more sustainable rural communities and economies.
He will be speaking to as many people as possible across the Royal Welsh showground over the next week, which will be the start of discussions and planning to deliver the council's aspirations. The council will be holding a stakeholder engagement event in Carmarthenshire during October to take this work forward.
"This is a great chance to start having real conversations with people and start moving our plan forward," said Cllr Campbell.
"We have to look at every available opportunity to make a difference in our rural communities – we want to ensure that there is quality housing, jobs and business opportunities, thriving trade, good connectivity both in terms of digital and transport networks, and a key focus on protecting and growing the Welsh language.
"This is a wide-ranging and long-term plan, but we are wasting no time in getting started. I look forward to speaking with as many people as possible to ensure they have the opportunity to express what matters to them."
Cllr Campbell presented his 'Moving Rural Carmarthenshire Forward' report to Executive Board at the beginning of July, securing the full backing of colleagues to progress the report to Full Council for their final approval.