Fitting tribute for a Carmarthenshire's sporting hero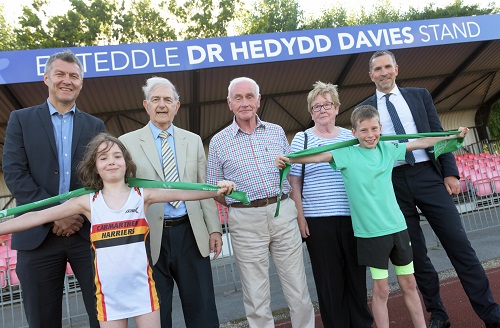 A unique tribute has been paid to one of the county's sporting stalwarts.
The council's athletic track stand at Carmarthen Leisure Centre has been named after Carmarthen Harriers club president Dr Hedydd Davies in recognition of his lifetime of service to athletics locally and nationally.
Dr Davies has spent the last 40 years volunteering or organising athletics events in Carmarthenshire from primary to international level including many British schools events and 35 Welsh championship competitions.
As a competing athlete the former Welsh president took part in the 1970 Common Welsh Games in Edinburgh and was nine times Welsh senior champion in the steeplechase, marathon and cross country.
To mark the event Dr Davies was joined by athletes of all ages and chair of Welsh Athletics, Steve Perks, at an unveiling ceremony earlier this week.
The council's executive board member for sports, culture and tourism, Peter Hughes- Griffiths said: "We, along with Carmarthen Harriers Athletics Club, are thrilled to be able to recognise Hedydd Davies in this way. Not only was he a talented athlete but his tireless contribution as an organiser and coach since has greatly influenced individuals in their sport.
Naming the stand after him is a fitting tribute to the dedication he has given to athletics during his lifetime."
Mr Davies' work has been recognised with a number of awards including 1998 Carmarthenshire Lifetime Award, 2002 Welsh Athletics Award of Honour, 2007 MBE for services to Carmarthen Harriers and Welsh Athletics, 2010 Carmarthen Town Council Lifetime Achievement Award, 2012 Welsh Athletics Lifetime Achievement Award, 2018 RB Evans Award and Special Award at Carmarthen Harriers 70th Anniversary Dinner for Club Service (November 2018), 2018 UK Services to Sportshall Athletics Award.