Further cash boost for Bishop's Park restoration project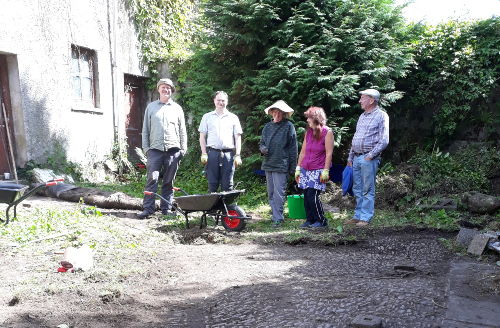 An exciting project to restore Bishop's Park in Abergwili, Carmarthen to its former glory has received a cash boost of almost £150,000.
The Tywi Gateway Trust has secured two new grants to help regenerate and transform the gardens and former palace outbuildings of the Bishops of St David's.
Also home to Carmarthenshire Museum, the Trust is working in partnership with Carmarthenshire County Council and the local community to give the whole site a new lease of life.
It includes conserving the historic park and gardens, enhancing the condition of wildlife habitats across the park, improving public access, reinstating the walled kitchen garden and restoring the outbuildings of the Old Bishop's Palace for use as a learning space and interpretation centre with café.
The project has been awarded £46,125 from the Landfill Disposals Tax Community Scheme which supports environmental enhancement. The funding will enable the Trust's head gardener to work with volunteers to assist with the park's restoration, helping to improve the management and condition of its wildlife habitats.
The Trust has also received a small capital grant of £100,156 from Welsh Government's Enabling Natural Resources and Well-Being in Wales programme which supports partnership projects that help deliver increased public access to green spaces. The money will be used to create a new public access across the Great Meadow and to reinstate historic paths across the Bishop's Park linking them with the Tywi Valley Path and broader footpath networks of the Tywi Valley.
Trust Manager Louise Austin said the funding would make a big difference: "The Bishop's Park is a really special place, a wonderful park and garden with more than 800 years of history and cultural connections as well as nationally important wildlife. These grants will help more people to visit, enjoy and get actively involved in protecting what makes this site special."
To date the Trust, a registered charity, has raised a total of £1,881,581 towards the project, including £300,000 from the county council. With restoration work also scheduled to take place on the museum, the Trust and the council are collaborating to deliver an innovative and sustainable approach to protecting this important cultural heritage - a concept unique to Wales.
Council Executive Board Member for Culture, Sport and Tourism Cllr Peter Hughes-Griffiths said: "We are absolutely delighted with the Trust's funding successes. This unique collaboration promises to be a great success and will, over time, transform this culturally significant site to reveal its many hidden histories."