Recycling Centres to re-open by appointment only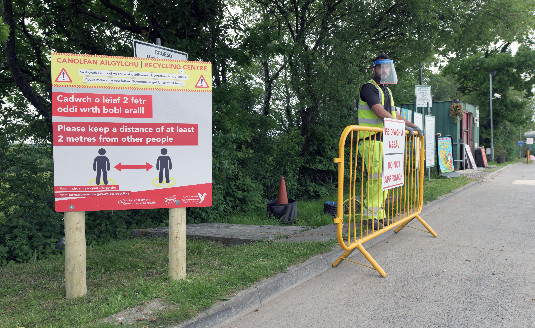 Carmarthenshire County Council will be re-opening its four Household Waste Recycling Centres from next week (w/c May 26) - but only to those Carmarthenshire residents who have already pre-booked an appointment.
Appointments can be made through an online booking form on a first come-first served basis. This is to ensure the number of visitors to the site at any one time is regulated in the interest of safety for staff and the public. Anyone arriving on site without an appointment will not be allowed entry.
Initially, appointment slots will be open for one week at a time. The appointments will go live every Thursday at 8.30am, starting from Thursday, May 21. The situation will be continuously reviewed and any updates or changes to the system will be posted on the council's website or Facebook and Twitter pages.
Trostre and Nantycaws will be open seven-days a week and Whitland and Wernddu in Ammanford will be open Wednesdays to Sundays.
Just under 4,000 appointments will be available across the four recycling centres each week. This will be under constant review. To ensure it is fair to everyone, residents will initially be able to make one appointment per month.
This applies to Carmarthenshire recycling centres only. Other neighbouring local authorities may be operating differently. Residents are advised to keep checking the council's website and social media feeds for the most up to date information.
Residents are being urged to ensure they only visit the recycling centres if it is an essential journey – i.e. the waste is causing a public health concern or safety concern, or cannot be collected at kerbside via the usual refuse and recycling collections.
Strict social distancing measures will be in place within the recycling centres and must be obeyed at all times. In the interests of safety, staff will not be helping residents to unload any goods during this time therefore residents are being urged to ensure that they are able to unload any materials themselves. Up to two people (from the same household) will be allowed to get out of the car to unload heavy/large items. If site rules and social distancing isn't met the council will have to re-evaluate the position and may be forced to close once more.
Cllr Hazel Evans, executive board member responsible for environment said: "I would like to thank residents for storing their waste responsibly since we had to close our recycling centres due to the Coronavirus. I know a lot of people have been waiting patiently for the recycling centres to re-open but we could only do this in accordance with Government advice and only then when we had finalised the correct control measures to allow re-opening to be done safely and sensibly.
"I would ask residents to be patient particularly in these first couple of weeks whilst we re-start the service and whilst we're still in this pandemic. We know a lot of people will want to make an appointment, but these should only be for those who cannot store their waste safely at home or dispose of waste through our kerbside collections. This situation will be constantly reviewed, especially during the first couple of weeks. The safety of our staff and residents is paramount. Thank you for your continued co-operation during these difficult times."
Usual rules apply on proof of identity that residents are from Carmarthenshire and vehicle permits. This information can be found on the recycling, bins and litter pages on the website.
Any updates will be posted here and on the council' social media pages.