Staff go extra mile to help extremely vulnerable residents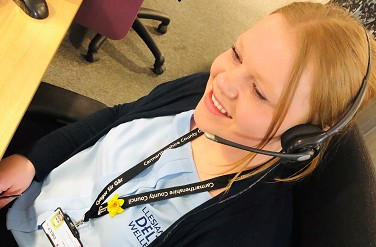 Staff at Llesiant Delta Wellbeing are going the extra mile to make sure extremely vulnerable people in Carmarthenshire are supported during the coronavirus pandemic.
Coming into work every day throughout the national emergency, staff have worked tirelessly 24/7 behind the scenes to support vulnerable people across the county.
Llesiant Delta Wellbeing, formerly Carmarthenshire Council's Careline service, has conducted approximately 5,000 calls to residents in Carmarthenshire that have received shielding letters from Welsh Government to ensure they have everything they need to stay safe during these difficult times.
Through the pro-active calls the team ensures people are getting their shopping essentials, prescriptions and also checking on their general welfare, providing peace of mind for loved ones and their families.
Delta Wellbeing Team Leader Charlotte Sheppard said: "Staff are ensuring people have enough help and support around them during the shielding period. If, during a call, we identify that the person has no support available, a referral is made for further help. This can include providing essential food parcels or support while shopping for essentials. We check if people are receiving their weekly or monthly prescriptions and if pharmacies are unable to deliver, we refer this for assistance also.
"We check on their general welfare and wellbeing. We ask how they are feeling to gauge any additional support needs they may have and identify if they require further care support, a Delta Wellbeing lifeline installed or additional wellbeing calls. We also provide information regarding community-based services available in the local area. Our new emergency responder service can visit people at home when required to solve practical issues people have when shielding."
The Delta Wellbeing team has also gone above and beyond on occasions to ensure the communities most vulnerable receive the vital help they need.
Charlotte added: "Following an urgent food referral made on the weekend, one responder delivered a food parcel to a vulnerable person to ensure he had essentials until his next food parcel delivery. Another responder delivered someone's prescription as he was unable to collect it himself and his family were unable to help until the following week. This person was most grateful. We have also identified people who are in need of further wellbeing calls."
Carmarthenshire County Council Executive Board Member for Social Care and Health Jane Tremlett said feedback about the outbound calls has been extremely positive. An elderly gentleman who was on the list and struggling after his wife passed away in February was contacted by Delta Wellbeing. He told an Advisor: "Thank you for phoning and asking how I am. I'm feeling better today and thanks for making sure I'm getting my shopping and medication. I'll be clapping for Delta Wellbeing on Thursday."
Welsh Government is continuing to update the shielded patient list with a further 21,000 patients added this week across Wales. When the council is informed of any new additions to our local list, those individuals will be contacted to check on wellbeing and need.
As well as receiving a letter from the Chief Medical Officer, residents in Carmarthenshire also receive a letter from Council Leader Cllr Emlyn Dole providing local information and advice. The council has been working hard to put arrangements in place to make sure help is available locally for people who are shielding, including the support being provided by Delta Wellbeing.
Council Leader Emlyn Dole said: "I would like to thank the team at Delta Wellbeing for going above and beyond at this time. As well as making sure the residents have everything they need, I am sure they appreciated hearing a friendly voice on the other end of the phone. For some people it may be the only contact they have had, and it can make a world of difference to someone, especially at times like these."
Alongside this work, Delta Wellbeing is also in close contact with Carmarthenshire County Council and Hywel Dda University Health Board to support those at home and help to get patients out of hospital at the earliest opportunity. They can help to improve an individual's independence by providing help or support using the latest Technology Enabled Care.
For more details on how Delta Wellbeing can support you and your loved ones to live independently for longer, please call 0300 333 2222 or visit the website www.deltawellbeing.org.uk
Further information on shielding for extremely vulnerable people