Have your say on temporary town centre changes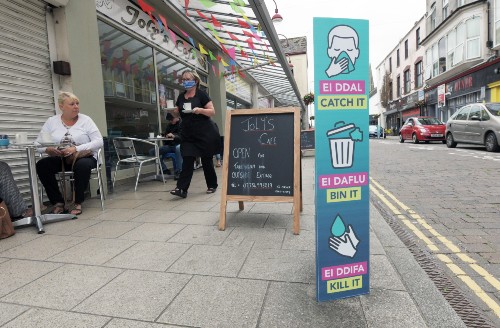 Carmarthenshire County Council is inviting feedback on changes being introduced in Carmarthen, Llanelli and Ammanford town centres.
Temporary measures are being brought in from August 3 to support safe social distancing and allow businesses the opportunity to bring their trade outdoors.
Some town centre streets, including King Street in Carmarthen and Cowell Street in Llanelli, will be pedestrianised between 10am and 4pm to create additional space.
Businesses can apply for a licence to have street furniture allowing them to serve customers in the pedestrianised areas.
The council can revert the streets back to their normal arrangements at any time during the 18-month temporary order and gathering feedback from businesses and visitors will help inform its decisions.
Council officers have visited businesses and will continue to work with them in the areas where changes are being introduced, supporting them to embrace the change – such as assisting them to apply for a street trading licence or advising them about deliveries and appointments.
People can make representations to the council over the phone on 01267 234567 or by email at consultation@carmarthenshire.gov.uk.
Social media commentary and surveys will also be taken on board.
Answers to a range of common questions have been published on the council's website.
Leader of the council, Cllr Emlyn Dole, said: "These changes will mean people visiting our town centres can queue safely or walk through busy areas without having to mind passing traffic. As well as providing space for safe social distancing, pedestrianising these streets also opens up opportunities for businesses to serve their customers outdoors.
"We sincerely hope that this brings more people in to our town centres to enjoy shopping, eating and relaxing with friends in a safe environment.
"Bringing in a temporary order gives us the flexibility to make changes if needed, and we are keen to do what's right for each town. If anyone has any representations to make about these changes, we'd like to hear it."
Maps summarising the changes being introduced in Carmarthen, Llanelli and Ammanford are available online. 
As more businesses open and more people get out and about across Carmarthenshire, the council is also asking people to respect, protect, and enjoy:
Respect – guidelines, safety measures, local communities and others around you
Protect – yourself, other people, and critical services; stay home if you're unwell and wash your hands often
Enjoy – spend your leisure time safely and support local businesses get back on their feet.