Empty building brought back in to use as eco-friendly supported accommodation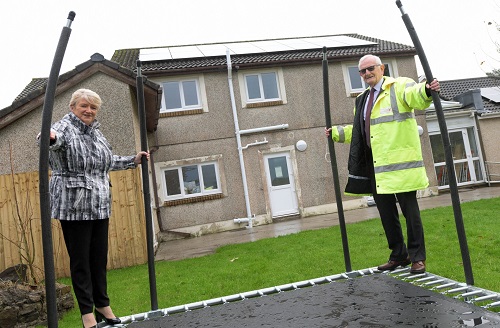 An empty building in Ammanford purchased by Carmarthenshire County Council has been brought back to life to support people to live independently with a range of eco-friendly features to help them cut their carbon footprint.
The former Hafan Croeso residential home in Glanamman has been converted into two self-contained flats, and shared accommodation for five people which will help promote independence and improve health and well-being after the council secured funding through the Welsh Government's Integrated Care Fund.
It has been designed with a range of measures that will reduce both energy use and carbon emissions supporting the council's commitment to tackling climate change and becoming a net zero carbon local authority by 2030.
Last week the council launched a new campaign Prosiect Zero Sir Gâr to coincide with COP26 – a global summit for climate action - which shines a spotlight on efforts being made to become completely carbon neutral.
The council's affordable housing plans will drive forward the housing decarbonisation agenda.
This includes the installation of high levels of fabric insulation that help minimise heat loss from homes. It also includes that installation of renewable technology including solar panels, air source heat pumps, electric vehicle charging points and battery storage. The Council has adopted this approach in all its new build developments including homes that will be available soon in in Burry Port, Llanelli, Llandybie, Ammanford and Pembrey. All these measures help lower energy bills for tenants and create homes that can produce and store their own electricity.
Work is also underway on a retro-fit programme for seven empty properties which will undergo a range of energy measures that will reduce carbon emissions. These include high levels of thermal insulation, triple glazed windows, solar PV with battery storage, MVHR, LED lighting and hybrid or air source heat pumps.
The council's Cabinet Member for Housing, Cllr Linda Evans said: "The new supported living scheme in Ammanford has been transformed and designed to provide the highest level of thermal comfort to the tenants and minimise fuel bills as well as contributing to our ambition to become a net zero carbon Authority by 2030. We are committed to reducing our carbon emissions and ensuring all our homes are as energy efficient as possible."
Cllr Ann Davies, Cabinet Member for climate change said building new energy-efficient homes and transforming existing buildings plays a significant part in the authority's efforts to tackle climate change.
"We have to look at our whole approach, so supporting out tenants to live sustainably forms a massive part of our net carbon zero agenda. As well as helping them live in eco-friendly homes, we are making their homes warmer and more comfortable, and cheaper to run by reducing their energy use and therefore their bills.
"We have achieved so much already but recognise that we have much more to do – that's why we have launched Prosiect Zero Sir Gâr to galvanise our efforts and ensure everyone plays a part in helping us achieve net carbon zero."
Prosiect Zero Sir Gâr shines a spotlight on every effort that continues to be made as Carmarthenshire County Council works towards being completely carbon neutral by 2030.
It hopes to inspire and encourage everyone to play their part in tackling climate change by reducing Carmarthenshire's carbon footprint, involving thousands of council staff, local schoolchildren, businesses and residents. It calls on people to make changes, share ideas, and start conversations at home, in shops and offices, in classrooms and on social media to encourage everyone to work together to tackle climate change.
Play a part in reducing Carmarthenshire's carbon footprint by getting involved with Prosiect Zero Sir Gâr - find out what the council is doing, and ideas for what you can do by visiting www.carmarthenshire.gov.wales/ProsiectZeroSirGar. Start conversations and share ideas online using #ProsiectZeroSirGar