10 days to go until Eisteddfod yr Urdd 2023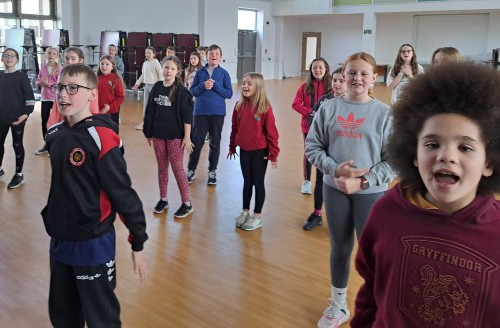 With only 10 days to go until the Urdd Eisteddfod kicks off at Llandovery, Carmarthenshire County Council is reminding everyone to get their tickets in good time, as ticket prices will increase on May 29.
Visit the Urdd website to purchase your tickets.
This year there will be free entry to low-income families to the Urdd Eisteddfod.
There are two ways for low-income families to claim free tickets:
Urdd £1 Membership – an e-mail will be sent to families who receive the Urdd £1 Membership with information of how to claim their ticket. The e-mail will include a unique discount code that can only be used once with their account.

Application form – an application form can be completed on the Urdd's website to claim low-income tickets. Before tickets can be claimed, the person or family will need to confirm that they are eligible within the listed criteria. Full information and criteria of who can apply for the low-income tickets will be available on the Urdd website.
Prosiect 23 - Chwilio'r Chwedl – Urdd Eisteddfod Opening Performance
On Sunday, May 28 at 01:30pm, over 950 children from across Carmarthenshire will come together to perform a Street-Theatre show, Chwilio'r Chwedl, to celebrate Carmarthenshire's history and culture across many areas of the Maes.
Click here to book your tickets
Prosiect 23 – Chwilio'r Chwedl is a year-long scheme, which culminates on the Urdd Eisteddfod Maes. Over the past year, events have been held across the County with primary and secondary pupils contributing through artwork, dance, music, film and acting with professional practitioners.
The pinnacle of Chwilio'r Chwedl takes place on the Eisteddfod Maes on Sunday, May 28 at 01:30pm, as hundreds of children and young people create an exciting and innovative performance that will be an episodic patchwork of Carmarthenshire's legends and stories performed in a promenade theatre style with the audience moving around in search of the different legends on the Eisteddfod Maes in Llandovery.
Young people from the County who have competed in the Urdd over the years and writers from the County were asked to write the scripts for many of the legends giving them a new angle.  The songs have been specially composed by Steffan Rhys, Gwilym Williams, Ieuan Wyn, Richard Vaughan with lyrics by Tudur Dylan, Mererid Hopwood, Hywel Griffiths, Eurig Salisbury, Catrin Gwyn, Megan Davies and pupils from Carmarthenshire. Izzy Rabey, Owain Gwynne, Anna ap Robert and Osian Meilir have created rap, dance and movement work and Karen McRobbie, Mared Davies, Kate Glanville, Rhys Padarn and Karm Lloyd Roberts have created some fantastic artwork with many of the schools. Over 150 pupils from the county's special units have created a song about 'Jac Tŷ Isha' with Neil Rosser and the 'Pwdin Reis' Band and had the opportunity to record it at Canolfan S4C yr Egin. 
As part of Prosiect 23 – Chwilio'r Chwedl the Council's Youth Support Service has been helping the project by building props for schools and their legends, and also benches for the public on the Maes.  Children who work with the service as part of its restorative work for the community have been measuring, building and painting the benches with designs of Welsh football and rugby heroes.  Artist Karen McRobbie has worked with staff and has been helping the children with the artwork featured on the benches, with the voice of the child prominent in the work.  All three benches can be seen on the Eisteddfod Maes, and one of the benches has been adapted for wheelchair users.   
Cabinet Member for Education and Welsh Language, Cllr Glynog Davies said: "With less than two weeks to go until the Urdd Eisteddfod gets underway in Llandovery, there is a buzz around Carmarthenshire.
I am really looking forward to the Chwilio'r Chwedl show, which will officially open the festival and I would encourage everyone to buy their tickets for the Eisteddfod, if they haven't already, in good time.
Also remember that free entry is available for low-income families, which will enable every family and child in Carmarthenshire to have the opportunity to attend this unique and special festival."