Carmarthenshire County Council declares climate emergency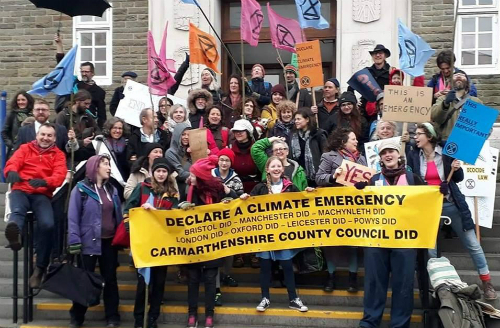 Carmarthenshire County Council has declared a 'climate emergency'.
Full council yesterday (February 20, 2019) gave its unanimous approval to a motion put forward by Cllr Aled Vaughan Owen, calling on the council to take a stance on climate change.
Council also gave its full support to 11-year-old Coral Sylvan who led a group of climate change activists in a packed public gallery and stood in front of the chamber to ask councillors what they would do to secure her future.
In response, the council agreed to declare a climate emergency. It also committed to becoming a net zero carbon local authority by 2030, and to develop a clear plan within the next year.
It will call on Welsh and UK Governments to provide support and resources to enable effective carbon reductions, and work with partners to develop opportunities to deliver carbon savings.
"There is global consensus that climate change poses significant risk to our health, our economy, our environment, and endangers the wellbeing of future generations," said Cllr Vaughan Owen. "Scientific evidence clearly demonstrates that we have no more than 12 years to limit a climate catastrophe and even locally, here in Carmarthenshire, we are dealing with significant challenges closely linked to a changing climate. Cities, Local Authorities and communities across Wales and the UK are becoming frustrated by governments that are unwilling to take the urgent steps needed, to deal with these issues.
"Humanities' future depends on today's bold and brave leaders to make the necessary decisions now in order to safeguard the environment, our future and those of generations to come."
Leader of the council, Cllr Emlyn Dole, was clear in his support of the motion.
"Scientific evidence paints a clear picture - climate change is happening," he said. "In Carmarthenshire we need to decide what adaptations we need to make to meet the challenge of a changing climate.
"We have to come to terms with the fact that dramatic floods like the ones we experienced in October are going happen more frequently but we also need to decide how best to cope with them.  There will be communities throughout the county that are more vulnerable than others to high tides or flooding rivers.  They need to be identified and we all need to know how best to look after the welfare of the people who live there. 
"Over the next few months a lot of evidence will be pulled together by individuals and organisations so that we can be better prepared for the climate changes in years to come."
Cllr Dole listed a number of changes the council has already made in recent years in its efforts to support sustainability.
Six months ago, the council vowed to reduce single-use plastics in council buildings and offices and ban plastic cups and straws.
Carmarthenshire was the first council in Wales to introduce electric pool car vehicles around seven years ago, and has recently secured funding for plug-in chargers following an increase in electric vehicle sales. 
The council has a policy of integrating low and zero carbon technologies into major building works projects such as schools, where PV installations and Passivhaus standards are already in use.
Its fleet of refuse or rubbish lorries is the most emission-friendly fleet in Wales; street lighting has been converted to LED units; and there has been significant investment in Safe Routes in the Community and Safe Routes to Schools to encourage more sustainable travel.
Backing the motion, Cllr Jeff Edmunds said: "This is probably the most important thing we have discussed – this is a reality that is going to affect us all."
And Cllr John James called for councils to influence governments by using the Wellbeing of Future Generations Act to move things forward.