Ambitious plans to build 900 new council homes moves forward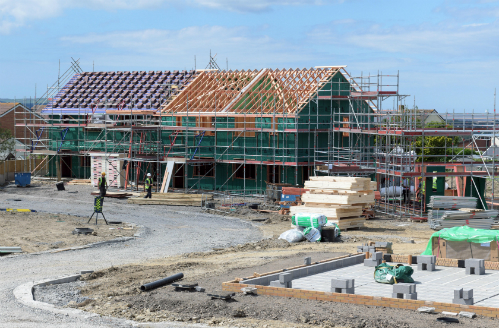 Plans to build 900 new council homes in Carmarthenshire have taken another major step forward following approval from the county council's Executive Board.
Cllr Linda Evans, Executive Board Member for Housing, told colleagues today (Monday July 29, 2019) that funding is already in place to build a third of the planned homes within the next three years, making Carmarthenshire the first and only local authority in Wales with such wide-scale plans for investment in social housing - the biggest since the 1970s.
Once complete, the scheme will return Carmarthenshire County Council's housing stock to levels last seen in the 1990s, and is in addition to the council's commitment to create an additional 1,000 affordable homes in the county by 2021.
Following Executive Board approval, and depending on approval from Full Council at its September meeting, the council will waste no time in building the new council homes in areas of most need – many of those in rural areas which has lacked available social housing for many years.
£53million is already in place to build the first 300 homes.
Welcoming the plan, council Leader Cllr Emlyn Dole said Welsh Government Minister Julie James has applauded the authority's innovation, ambition and ability to deliver the scheme, which puts Carmarthenshire at the forefront of council home investment in Wales.
"We are very proud that we are building homes for our people, people who are waiting for these homes," he said.
Cllr Evans, setting out the report at Executive Board, said: "This builds on our commitment back in 2016 to create an additional 1,000 affordable homes by 2021. Our original plan used a range of ways to ensure that there are affordable homes within the county - for example buying homes from the open market, bringing empty homes back into use, renting houses through Simple Lettings, using Section 106 agreements, and by working with partners.
"Within the first three years, we have managed to ensure that there are 700 more affordable homes in the county, and I'm completely confident that we will reach our target by 2021.
"This adds to the original 1,000 – 900 new council homes – nothing similar to this has been achieved since the 1970s. I am ensuring that the homes we have in the county are put back to the levels we had in the 1990s.
"We will be supporting the regeneration priorities of the county as well – what's important is that we concentrate on the need and deliver suitable housing.
"The programme is a very exciting and challenging one but by developing this plan we will have new homes of the highest standard in areas of most need. We will be contributing to the health and wellbeing of people, helping the local economy, and creating jobs for local people."
Cllr Cefin Campbell, Executive Board Member responsible for rural affairs, added: "This is one of the most exciting and important plans that we have started as an administration. It shows our commitment to ensuring that houses are available to those that are most in need and to those who can't move in to the housing market because of high prices.
"It's amazing that we have committed to creating 1,000 affordable homes and 900 council homes – no other county in Wales is doing what we are doing.
"Many of these affordable homes and council homes will be in rural areas which will help to keep families in rural areas."