Carmarthenshire first to publish climate action plan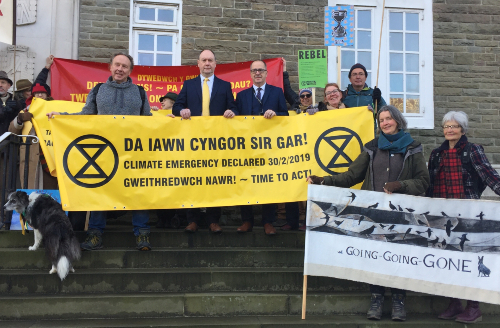 Carmarthenshire County Council has become the first local authority in Wales to publish a climate change action plan detailing how it will work towards becoming net zero carbon in the next 10 years.
Efforts to reduce and offset carbon emissions are already making a positive contribution to the climate change agenda, but more is to come with focus on key areas as the council rises to the challenge.
Last year the authority became one of the first councils in the UK to declare a climate emergency, pledging to becoming net carbon zero by 2030 - 20 years ahead of Welsh and UK government targets - and committing to publish an action plan within a year.
On the first anniversary of its declaration, Full Council today (February 12, 2020), backed that plan and repeated its commitment, as well as highlighting the positive actions it has already taken.
The council has reduced carbon emissions from its non-domestic buildings by 38 per cent since 2005/06, and procures all its electricity from renewable energy sources.
It has invested £2million in 200 energy efficiency projects in the hope of saving 41,000 tonnes of carbon emissions.
All new major build projects incorporate renewable energy, including solar panels, air and ground source heat pumps.
Carbon emissions from street lights have reduced by 65 per cent since 2011/12, and 80 per cent of the county's 20,000 street lights have been converted to low energy LED.
Carbon emissions from the council's fleet, including refuse and gritting vehicles, has reduced by 19 per cent since 2012/13 with more investment due to upgrade to a more energy efficient fleet.
The council was the first in Wales to purchase electric cars to reduce the impact of business mileage, which has been supported by new agile working practices to reduce staff travel.
Actions include developing new carbon reductions from council's buildings, purchasing more energy efficient fleet, collaboration with other public bodies to deliver wider change, exploring opportunities for tree planting and renewable energy generation on council-owned land.
Cllr Cefin Campbell, Executive Board Member responsible for tackling climate change, presented the plan and answered a series of detailed questions from members of the public who attended the meeting.
He said: "Today is a very historic day for Carmarthenshire County Council. A year ago, almost to the day, we declared a climate emergency. We were all unanimous at that meeting, agreeing that this council will develop an action plan in the next 12 months.
"I am very pleased that we have succeeded in that task but it's very important to remember why we are doing it.
"As we look at the news, every day we can see how many natural disasters are happening - wildfires, rising sea levels that are threatening our islands, our oceans full of plastic waste - we can see the impact we are having as human beings and how that threatens the future of the planet.
"Scientists are clear that if we continue on this level we will do so much damage to this planet that we will reach the point of no return. Climate change is happening here, and happening now."
He added: "We made a solemn promise to develop an action plan and I'm proud that we are delivering on that promise.
"I am very proud that we are the first in Wales to publish an action plan. The easy bit is to write an action plan - the hard work starts now. This plan will evolve and will change to meet the challenges of the future. It will also respond to opportunities. We are exploring new ways of developing exciting projects to reduce our carbon emissions.
"It's a great evaluation of where we are but this will be very different in two, or five, years time. It is realistic and something we can deliver on. We are looking at our domestic buildings, our fleet and business mileage, street lighting… but we will be doing much more than that.
"We will always have some carbon emissions but what we must do is find ways of off-setting this so that we are net carbon zero.
"I hope we can all work together and with other local authorities in the region and other public sector bodies and societies who are keen to come with us on this historical journey."