EntreCompEdu School Pioneer Award for Dafen Primary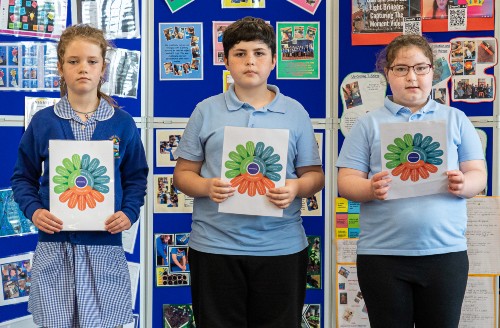 A Llanelli school has achieved an EntreCompEdu School Pioneer Award in recognition of their passion and enthusiasm for their entrepreneurial learning journey.
Dafen Primary School has been awarded the status of first Global EntreCompEdu Pioneer School out of 52 countries taking part in the EntreCompEdu project from Jan 2020 to May 2021.
EntreCompEdu is an Erasmus+ 6 partner country project led by the University of Wales Trinity St David that aims to support educators to teach entrepreneurial competencies effectively. Partner countries include Spain, Finland, Sweden, North Macedonia, Belgium, and Wales.
All Dafen staff appear in a Global Online Yearbook to share best practice across the global educator community and their work has been showcased in a number of national and global events including the global online EntreCompEdu website and café and the Enterprise Educators UK conference.
The school welcomed a number of guests including the council's Director of Education and Children's Services Gareth Morgans to a two-day event to showcase their entrepreneurial skills. The guests were treated to a full immersion of 'entrecomp' skills through multiple projects and work outputs, from nursery through to year 6.
Felicity Healey-Benson, International Institute of Creative Entrepreneurial Development (IICED), UWTSD, representing as lead partner and the school's EntreCompEdu trainer, hosted the event which was led by headteacher Iolan Greville.
Parent Governor Felicity, who has three children in the school, said:
"Out of 52 countries and over 750 participants, the school was awarded the special pioneer status due to its whole-school immersion in the project and ongoing commitment to embedding entrepreneurial competencies, even during the challenges brought about by Covid."
Mr Morgans said he was impressed that the entire school has been involved with the project:
"The EntreCompEdu project success reflects the school's wholehearted commitment to the new Welsh curriculum," he added.
UWTSD's Dr Christine Jones, Interim Dean of the Institute of Education and Humanities, said:
"At UWTSD entrepreneurial education is core to our values and informs our mission to transform education and to transform lives. We are proud to be part of a community which embraces the changes needed. In such a new environment we are all learning from one another so that we can develop learners who are equipped to deal with an ever-changing world. Dafen's commitment is a beacon of light that we can all learn from."
In line with covid safety protocols, Dafen Primary School's re-scaled event also provided the opportunity for the pupil and students to showcase their strong bi-lingual oracy and creativity and commitment to sustainability, ethical practices, community engagement, and resilience.
Mrs Greville said:
"Already staff are motivated by how much creativity and innovation they can capture and build upon, from our outgoing curriculum, thus celebrating what we already do well whilst working on new skills challenges for the new curriculum."