Council pays tribute to Welsh rugby legend Phil Bennett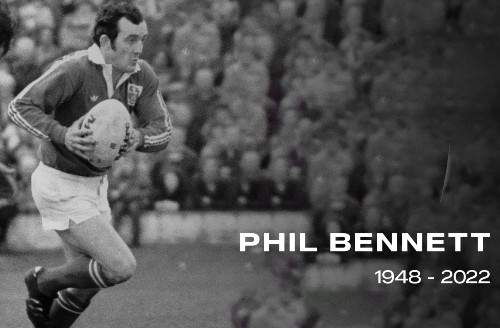 Carmarthenshire County Council Leader Cllr Darren Price has paid tribute to Welsh rugby hero Phil Bennett who has sadly passed away after a long illness.
Regarded as one of world's greatest rugby players, the sporting legend from Felinfoel in Llanelli, died on Sunday, aged 73.
Benny, as he was affectionately known, won 29 caps for Wales from 1969 to 1978, played for his beloved Scarlets 413 times and starred for the Lions on two tours, to South Africa in 1974 and as Captain in New Zealand three years later.
He was awarded the OBE in 1979 for his services to sport and inaugurated into World Rugby's Hall of Fame in 2005.
Cllr Price, speaking on behalf of the council, said: "Phil Bennett was a true rugby icon, and an inspiration to us all. He was a global superstar of the golden era of Welsh rugby, and will be remembered not just for his immense skill on the rugby pitch, but for his enthusiasm and passion for local sport, and his valued contribution to the local community.
"Phil worked as part of the council's community sports development team for a number of years, and made a huge impact on both our young and older people across Carmarthenshire. He will be greatly missed by all, and our thoughts and condolences are with Phil's family and friends at this sad time."