Grand unveiling of Pendine Tourism Attractor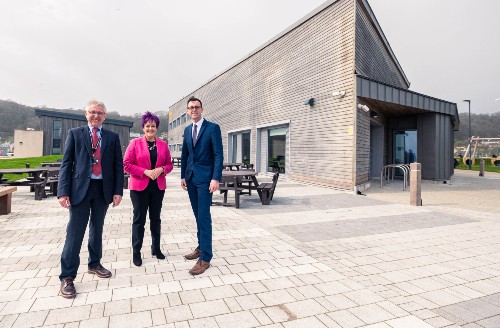 Ahead of its official opening on March 31, residents of Pendine and dignitaries have been amongst the first group of people to enjoy a tour of the brand-new Tourism Attractor facility at Pendine Seafront.
The event was hosted by Cllr. Gareth John, Carmarthenshire County Council's Cabinet Member for Regeneration, Leisure, Culture and Tourism and Deputy Minister for Arts and Sport, Dawn Bowden MS.
The Pendine Tourism Attractor aims to maximise Pendine's heritage and its natural assets in order to drive forward the resort's future economic regeneration, as a 'day and stay' event destination. It comprises three individual, yet complimentary projects comprising the following key facilities:
"Caban" accommodation - Opening March 31, Caban is a brand new 14 room, 43 bed accommodation that has been constructed using sustainable building technologies. Overlooking the beach, the Caban facility also includes a restaurant and will cater for the walking holiday and outdoor sports adventure market as well as those seeking a coastal experience.
An Adventure playground, that opens March 31, along with an events area, exhibition esplanade offering platforms to host events; a beach sand sports area; improved car parking facilities and the Dune Gardens providing seating and interpretation trails.
Museum of Land Speed, opening end of May, is an exhibition space displaying motor cars and associated land speed memorabilia. Interactive zones will be located throughout the museum allowing visitors to engage, listen and learn about stories of Pendine and land speed records.
A 10-berth motorhome facility, which will be developed by Pendine Community Council, is also included in the wider master plan.
As a project, the Pendine Tourism Attractor was born out of extensive community engagement and consultation, whilst the construction of the facility was undertaken by Andrew Scott.
The project has received funding of £3m through the European Regional Development Fund (ERDF) as part of the Welsh Government's Tourism Attractor Destination Scheme; £1.5m from Visit Wales Targeted Match Funding from Welsh Government; £128,000 from the  RDP Funded Tourism Amenity Investment Fund to fund the sand sport area, and £984,000 from the Welsh Government Capital Stimulus Fund. The balance is match funded by Carmarthenshire County Council.
Cllr. Gareth John, Carmarthenshire County Council's Cabinet Member for Regeneration, Leisure, Culture and Tourism said: "It's very exciting to receive a tour of the brand new Tourism Attractor, here in Pendine.
"We have worked with the Welsh Government and other key stakeholders to deliver this excellent facility, which will enhance Pendine's reputation as an all-year-round, day-and-stay destination for visitors, accommodate 41 jobs and generate £3m per annum to the regional economy.
"I'm looking forward to seeing the doors to the Pendine Tourism Attractor officially opened during the Easter holidays and welcoming visitors to this picturesque part of Carmarthenshire."
Deputy Minister for Arts and Sport, Dawn Bowden, said: It's a pleasure to be amongst the first to visit this exciting new development in Carmarthenshire, which will help accommodate 41 new jobs.  The aim of the Tourism Attractor Destination programme is to develop projects that will raise the quality and perception of destinations in Wales, and the iconic stretch of Pendine beach is an excellent backdrop to these new developments which will benefit both residents and visitors to the area."
Caban and the Adventure Playground will be opened to the public on Friday, March 31.
The Museum of Land Speed will be opened to the public at the end of May 2023.