Rapid response service helps prevent unnecessary ambulance callouts and hospital admissions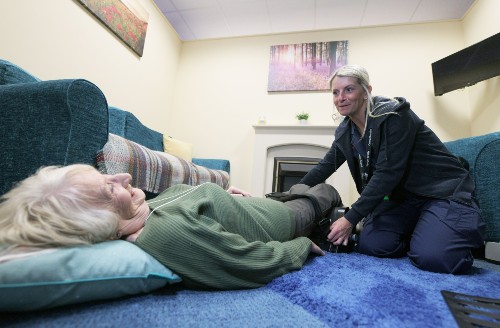 Delta Wellbeing's rapid response team is helping to prevent unnecessary ambulance callouts and hospital admissions across west Wales by attending non-medical emergencies and supporting people in their own homes.
During February, the team attended a total of 407 callouts, with an average arrival time of 31 minutes, and only 6% needing to be escalated to emergency medical services.
A large majority of calls are for non-injurious falls, and the team aim to improve the experience and outcome of those who have fallen by working to reduce the time it takes to get to the client, to assess and support them at home, and to try and prevent future falls.
The service has helped to reduce the number of emergency ambulance callouts, enabling them to attend more life-threatening calls. It has also allowed the majority of clients, who are generally vulnerable or older, to stay at home, reducing hospital admissions.
The team is part of Delta Wellbeing's CONNECT project, which is transforming the way social care is being delivered across Carmarthenshire, Ceredigion and Pembrokeshire, through a new model of self-help and pro-active care, helping people remain independent for longer at home and reducing demand on long-term or acute care.
The service includes bespoke TEC equipment, wellbeing assessment, pro-active wellbeing calls, access to the 24/7 response team and pro-active support pathways, all of which, support residents to maintain independence and remain safe at home.
Carmarthenshire County Council's Cabinet Member for Health and Social Care Cllr Jane Tremlett said: "The response service responds to calls within 45 minutes for non-medical emergencies, avoiding inappropriate hospital admission and use of ambulances, and ensuring clients who suffer a fall at home are not impacted significantly by lying on the floor for a long length of time.
"Research shows that the impact of falling is considerable, with a negative effect on independence and quality of life. Someone left lying on the floor for more than one hour is more likely to suffer serious injuries and be admitted to hospital, and subsequently moved into long-term care.
"Being able to attend site within one hour and lift clients off the floor not only provides them with the best outcomes but can also have a significant impact on reducing and, in some cases, stopping the need for ongoing support and care."
Since January 2020, the rapid response team has attended more than 11,391 call outs; of which 37% were for non-injurious falls, 27% were for a 'no response' following an alarm activation, and 28% were for other assistance or welfare check. Figures show only 713 of those, or 6%, needed to be escalated to emergency medical services.
CONNECT is funded by the Welsh Government's Transformation Fund through the West Wales Care Partnership and provides an enhanced wrap-around lifeline and telecare service shaping the future of health and social care across west Wales.  A total of 5,703 residents have signed up for the service since it was launched.
Rhian Matthews, Integrated System Director for Hywel Dda University Health Board and Carmarthenshire County Council, said: "The older adult population tell us that what's important to them is that they remain as well and independent as they possibly can for as long as they possible can and within their own home and communities.
"Through Delta CONNECT we are able to keep checking in on our vulnerable and older population to make sure they are keeping well and independent as they possibly can be, and when they are struggling Delta CONNECT is able to provide a timely response to their needs which allows us to put support in place before things become any worse. This helps us to avoid a hospital admission and protects their independence and reduces the reliance on social care support.
"And if someone falls at home or they need any type of assistance, Delta's rapid response team works closely with the Welsh Ambulance Service, and make sure they are only taken to hospital when it is absolutely necessary for them to do so. If someone is taken to hospital by an ambulance and we believe that individual could go home with a little bit of wrap-around care from Delta CONNECT and the rapid responders, then we do that to support them and their families."
Delta Wellbeing is a Local Authority Trading Company, owned by Carmarthenshire County Council, which provides assistive technology and proactive monitoring to support older and vulnerable people to live more independently.
For more information about CONNECT, please visit deltawellbeing.org.uk