Regional dementia strategy published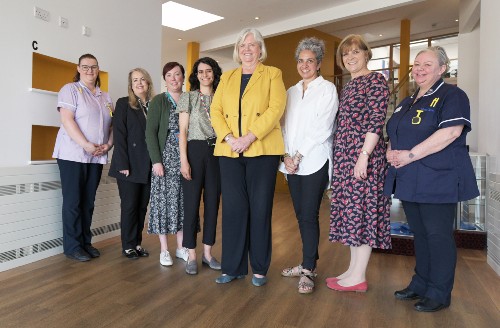 The West Wales Regional Partnership Board has published a 5-year regional dementia strategy, which has been developed through engaging with people that are living with dementia, carers, and health & social care staff across the region.
The strategy supports the work that the Partnership Board is already delivering, in line with the Welsh Government's Dementia Action Plan and All Wales Dementia Care Pathway of Standards, working towards improving dementia care in Wales and making our country a dementia-friendly nation. The strategy has now been agreed upon by all members of the partnership.
Dementia is everyone's business. Our vision for West Wales is to support each person living with dementia to live well and independently for as long as possible. The strategy outlines the WWRPB's Dementia Wellbeing Pathway, which places people living with dementia and their carers at its heart.
The strategy recognises that well-coordinated health and social care can act as the glue that binds together relationships. It also provides support within local communities that we can draw on to live our lives well and focus on what matters to us.
Through engagement across the region, the following key themes were identified as areas of focus within the strategy:
Wellbeing, risk reduction, delaying onset, raising awareness and understanding
Recognition, identification, support and training
Assessment and diagnosis
Living well with dementia
Increased support when you need it
The WWRPB has already begun delivering services differently, in order to achieve its vision. Examples of this include the launch of Admiral Nurse Service in 2021, a partnership between Hywel Dda University Health Board and Dementia UK, which focuses on delivering relationship-centred dementia care to enable families, carers and people living with dementia to maximise their well-being.
Another such example is the Dementia Supportive Communities project in Pembrokeshire, which is delivered by the Pembrokeshire Association of Voluntary Services. The project has won a national award in 2022 for its work in helping people living with dementia to achieve the best quality of life possible, feel part of their community, feel confident, understood and respected, and to continue to enjoy their hobbies and interests.
Judith Hardisty, Chair of the Regional Partnership Board and Vice-Chair of Hywel Dda University Health Board said: "To improve the lives of people affected by dementia, we need to think differently about how we organise and fund dementia care, learning from and investing in new and more effective ways of doing things. The West Wales Dementia Strategy represents a significant next step in regional collaboration to deliver on these ambitions. 
"The strategy has been shaped by people living with dementia and their carers, and the West Wales Regional Partnership Board recognises that people affected by dementia must be active participants in developing and delivering the strategy, to ensure the work continues to reflect the needs, experiences, and priorities of our communities."
Cllr. Jane Tremlett, Cabinet Lead for Health and Social Services, Carmarthenshire County Council said: "I welcome the publication of the regional dementia strategy and the collaboration between all partners in supporting people who are living with dementia along with their families and carers."
Cllr. Alun Williams is the Deputy Leader of Ceredigion County Council and Cabinet Member responsible for Through Age Wellbeing. He said: "Dementia is becoming an increasing important issue for society and its very pleasing to see everyone working together regionally to help. Many of the measures we can take to make life easier for those with dementia will improve society for everyone. I'm looking forward to seeing the new strategy taking effect and improving lives."
Cllr. Tessa Hodgson Cabinet Member for Social Care and Safeguarding, Pembrokeshire County Council said: "I really welcome the Regional Dementia Strategy with its focus on helping people with dementia to live well and independently for as long as possible. The Dementia Supportive Communities project In Pembrokeshire is a fantastic example of how people with dementia can be helped to achieve a high quality of life within their communities and it is great that PAVS has been recognised with a national award for its work with this project."
Partners of the West Wales Regional Partnership Board include Pembrokeshire, Ceredigion and Carmarthenshire County Councils, Hywel Dda University Health Board, third sector services, community voluntary councils and, importantly people living with dementia, whose voices shaped this strategy and who will benefit the most from its successful delivery.