Ysgol Y Castell's new building officially opened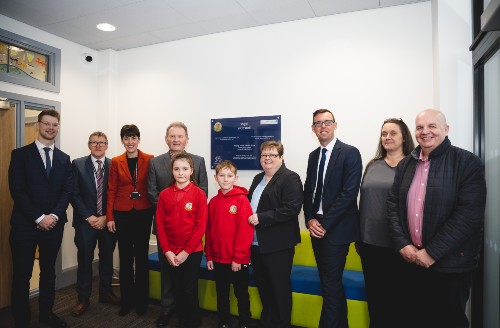 On Wednesday, January 11, Ysgol y Castell's brand-new building was opened by the leader of Carmarthenshire County Council, Cllr. Darren Price.
Ysgol y Castell has been provided with a state-of-the-art replacement building and will provide primary education for 270 primary school children and 30 nursery pupils, with an additional space to provide Early Years care.
The delivery of the investment is being completed over 2 phases.
Phase one was completed in November 2022, as pupils and staff occupied the new, 21st-century, school building. The facilities will be of great benefit to the school and the wider community.
The second phase of the works is due for completion in Summer 2023 and will include the demolition of the former school building, to create playing fields, a Multi-Use Games Area (MUGA) and space and provisions for community use.
This brand-new facility was delivered at a cost of £7.4 million and was joint funded by the Welsh Government, through its Sustainable Communities for Learning Programme, and by Carmarthenshire County Council's Sustainable Communities for Learning Programme.
The construction of the new school was undertaken by Lloyd & Gravell Ltd.
Gareth Morgans, Director of Carmarthenshire County Council's Education and Children's Services Department said: "The pupils and staff at Ysgol y Castell needed a new building and this wonderful brand-new facility will provide them with an excellent home for many years to come".
"Ysgol y Castell is at the heart of its community and therefore this building will also benefit the community of Kidwelly.
"I would also like to thank Carmarthenshire County Council for their investment, in partnership with the Welsh Government, into this project."
Cabinet Member for Education and Welsh Language Cllr Glynog Davies said: "Ysgol y Castell's new building is an excellent facility which is worthy of the children, parents, teachers, and staff of the school and long may they be happy here.
"This 21st-century facility is part of our programme of investment in this community."