Bouygues UK recruits locals as community ambassadors for its Pentre Awel project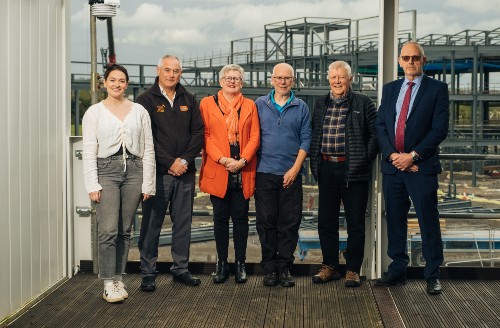 Three Llanelli residents have signed up to become Bouygues UK Community Ambassadors for its Pentre Awel construction project and it's hoped that more local people will join the scheme.
The Ambassadors will play an important role in liaising and communicating with the local community who live and work around the project, keeping them up to date on the different stages of the build, the project progress, as well as any issues or concerns arising during the build.  
As the lead contractor for the first stage of the Pentre Awel scheme, Bouygues UK is keen for the neighbouring community to share their ideas and help shape the project. Therefore, the Community Ambassadors will have a pivotal role of the project, as well as having special insight into the project progress so they can stay fully informed. 
The Ambassadors made their first visit to the site where they met the Carmarthenshire County Council Cabinet member for Regeneration, Leisure, Culture and Tourism Cllr. Hazel Evans and they also met Bouygues UK's Pentre Awel project team led by Peter Sharpe and saw the progress being made on the build.
The innovative, multi-million-pound development, which is being delivered by Carmarthenshire County Council, is the largest regeneration scheme in South West Wales. It will bring together life science and business innovation, community healthcare and modern leisure facilities at the 83-acre Delta Lakes site on the Llanelli coastline.
The Community Ambassadors will be given regular updates about the site and act as a liaison between Bouygues UK and the local community.
Nina Williams, Bouygues UK's social value advisor for Pentre Awel said, "The Community Ambassadors are a key part of our project delivery. This is a great opportunity for members of the local community to engage with the project, think creatively, and express their ideas freely.
"We hope to work with the Ambassadors to create volunteering opportunities for Bouygues UK staff. This is another way we can increase community engagement, but also make sure that any volunteering we take part in is meaningful and is what those in the local area actually need and make tangible differences to those living locally.
Nina added: "It has been great visit and was a wonderful opportunity for our new ambassadors to see the current project progress as well as meeting Cllr. Hazel Evans. We are looking forward to working with them further as the project takes shape."
Ambassador Roger James said: "I was interested in the whole Pentre Awel project from its planning days so when given the opportunity to attend a Community Information event laid on by Bouygues and Carmarthenshire County Council I jumped at the chance. My involvement since then has been a positive experience.
"I have been impressed with the way Bouygues has worked to protect the natural environment, involved local school children, used local contractors and suppliers wherever possible and offered employment opportunities to local people. As the project moves forward, I look forward to working with the end users to provide a facility that is accessible to all."
Raymond Majer, who has also joined the scheme, added: "As I live in Machynys, and can actually see the buildings going up at Pentre Awel from my back window, I am very interested in what is a very big project for Llanelli. I am very pleased that Bouygues is involving the local community and very happy that I can be involved, even if a small way, through being a community ambassador."
Cllr Hazel Evans, Cabinet member for  Regeneration, Leisure, Culture and Tourism said: "Local people are at the heart of this development and having the opportunity to work with our ambassadors, allowing them to be part of the development is excellent and I look forward to meeting with them again soon."
The Community Ambassador initiative is part of a broader programme of community benefits to be delivered during the development of Zone 1 of Pentre Awel to realise social, economic, cultural, and environmental benefits. This includes targeted recruitment and training, school ambassadors, STEM activities and supply chain engagement.
When completed, Pentre Awel will include a new state-of-the-art leisure centre and hydrotherapy pool together with education, research and business development space; a clinical research and delivery centre; and a well-being skills centre. Externally, it will feature landscaped outdoor public spaces for recreation, walking and cycling. 
The truly collaborative scheme is being delivered for the local community by Carmarthenshire County Council in partnership with Hywel Dda University Health Board, Universities and colleges and is part-funded by the Swansea Bay City Deal (£40million). It aims to create around 1,800 jobs over 15 years and boost the local economy by more than £450m.
Anyone interested in becoming a Community Ambassador at Pentre Awel should contact Nina Williams at:  nina.williams@bouygues-uk.com