Construction of Pentre Awel commences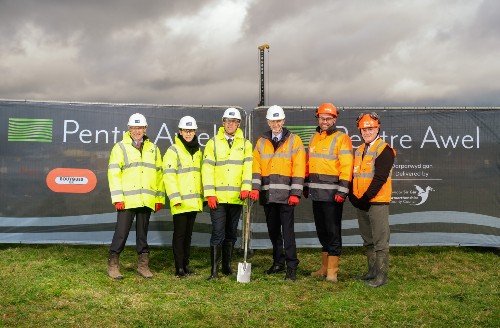 Today, March 6, marks the formal start of construction works at Pentre Awel as the Leader of Carmarthenshire County Council, Cllr. Darren Price welcomed the Secretary of State for Wales, David TC Davies, partners and stakeholders to the site of the multi-million-pound project that will bring together business, research, education, community healthcare and modern leisure facilities all at one prime location along the Llanelli coastline.
Pentre Awel is the first development of its scope and size in Wales. On completion, it will provide world-class medical research and healthcare delivery and will support and encourage people to lead active and healthy lives.
It will create five distinct buildings linked with a "street" space, comprising an aquatics centre, sports hall, multipurpose sports and fitness rooms and gym, education and training facilities, clinical delivery and research and innovation and business space. 
As well as improving health and wellbeing, the project will create over 1,800 jobs and training & apprenticeship opportunities and is expected to boost the local economy by a £467million over the next 15 years.
Carmarthenshire County Council has appointed Bouygues UK to design and build Zone One of the Pentre Awel development, following an extensive tendering process via the South West Wales Regional Contractors Framework.
Speaking at the event, Council Leader, Cllr. Darren Price said "I am delighted to welcome all key representatives from the partner organisations to the site on this landmark day when we officially commence the construction work.
"Pentre Awel is a key strategic regeneration project for Carmarthenshire County Council and central to the delivery of our Economic Recovery Plan. Although this ambitious development is led by Carmarthenshire County Council it would not be possible without the support and commitment from a very broad range of stakeholders all of whom are represented here today."
Also present at the event was Cllr. Gareth John, Carmarthenshire County Council's Cabinet Member for Regeneration, Leisure, Culture and Tourism.
Cllr. John commented: "Pentre Awel brings together a unique combination of elements covering Business, Academia, Health and care and critically our community; all of which will build a network to create a whole system where partners can identify opportunities for working across traditional boundaries.
"Pentre Awel is a multi-phase project which begins to become a reality today, with the formal commencement of the construction of Zone 1, due to be completed in the Autumn of 2024.
"Zone 1 is however just the start. In Zones 2 and 3 there will be some 370 units of assisted living units and beds. For Zone 4, we have planning permission for a hotel and housing. Watch this space."
Secretary of State for Wales David TC Davies said: "This is an exciting and significant project and one the UK Government is proud to support through the Swansea Bay City Deal.
"Pentre Awel has the potential to bring significant benefits to the local area through state-of-the-art health and leisure facilities but also through job and training opportunities. This is levelling up in action and I am delighted to see this project reach its next stage of development." 
Peter Sharpe, Bouygues UK's Project Director at Pentre Awel said, "It was wonderful to welcome the Secretary of State to officially break the ground at this landmark development. It was a great opportunity for us to share our detailed plans on the build and discuss how we are engaging with the local community to provide jobs and training opportunities throughout the development of Pentre Awel. 
"The state-of-the-art leisure and health facilities are going to benefit the local population for generations to come, and that's something really exciting to be part of. We are looking forward to working with some great local sub-contractors and progressing the build at pace in the coming months."
Pentre Awel is being delivered by Carmarthenshire County Council in partnership with Hywel Dda University Health Board, Universities and Colleges including Cardiff University, Coleg Sir Gar, the University of Wales Trinity Saint David and Swansea University.
It is part-funded by the Swansea Bay City Deal (£40million).