Bouygues UK and Whitehead Building Services support apprentices through Cyfle Shared Apprenticeship Scheme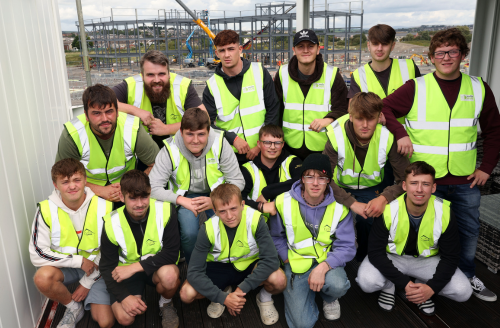 Bouygues UK and Whitehead Building Services have committed to supporting 10 mechanical and electrical apprentices through the Cyfle shared apprenticeship scheme.
The Cyfle Building Skills Shared Apprentice Scheme allows apprentices to complete a full apprenticeship programme by working with a number of different local employers to gain the skill sets they require to become qualified. The new mechanical and electrical (M&E) apprentices will work for the supply chain within Carmarthenshire, including the landmark 83-acre Pentre Awel project in Llanelli.
Shared apprenticeship schemes help employers who want to support the development of skills while working on regional contracts but are not in a position to offer a full term apprenticeship, and who wish to support training the future workforce.
The partnership allows Cyfle to increase its recruitment of apprenticeships in the Mechanical and Electrical trade and will create a legacy for training and skills which will provide long-lasting benefit for the Carmarthenshire region.
The new apprentices attended a launch event at Pentre Awel, the multi-million-pound development which is being delivered by Carmarthenshire County Council. The largest regeneration scheme in south west Wales, it will bring together life science and business innovation, community healthcare and modern leisure facilities at the 83-acre Delta Lakes site on the Llanelli coastline. It is part-funded by the Swansea Bay City Deal (£40million) and is the largest regeneration scheme in south west Wales.
Peter Sharpe, Bouygues UK's Pentre Awel Project Director, said
Local people are at the heart of this project in Pentre Awel. Bouygues UK is already working with many local sub-contractors at the Pentre Awel site, as part of its commitment to provide employment, training and skills opportunities to local people and underrepresented groups.

This partnership with Whitehead Building Services and Cyfle means we can recruit even more local people and allows apprentices to learn a host of new construction skills. As well as M&E, there are other trade apprentices who will be able to learn new skills, not just at Pentre Awel, but at other projects within the region. Bouygues UK is committed to helping young talent get into the construction industry as well as showcasing the benefits of the construction industry as a career path."
Hywel Morton, Whitehead Project Director added:
We are delighted to be a part of this landmark project, working with Bouygues UK. We are a private, family-owned business and apprenticeships have been at the heart of our success for over 45 years. By supporting apprenticeships through the Cyfle shared apprenticeship scheme we can ensure maximum opportunities for the local communities, not only during the construction phase of Pentre Awel, but long after we have completed.

Our support of this scheme through Cyfle, is in addition to our year-on-year commitment to training through apprenticeships. On the 08 September, we welcomed our new cohort of 12 apprentices into our Whitehead family. This year, we have reached an important milestone, with the total number of new apprenticeships exceeding 100 over the last 10 years. We look forward to working with Bouygues UK and Cyfle helping to develop the next generation of engineers."
M&E apprentice Andrew Morgan, 31, says he is excited to get started
I've always wanted to work in construction and recently went back to college, saw this opportunity with Cyfle and applied. It's good that we can learn on the job and have the chance to work on local projects. I'm really looking forward to it."
Euros Griffiths, Cyfle placement co-ordinator said:
Our Shared Apprenticeship Programme is delivering much needed training and skilled workers for the construction industry in West Wales. This is a fantastic opportunity for the apprentices and it's great for them to see one of the projects they could be working on in the early stages, knowing they will be involved in some way on site."